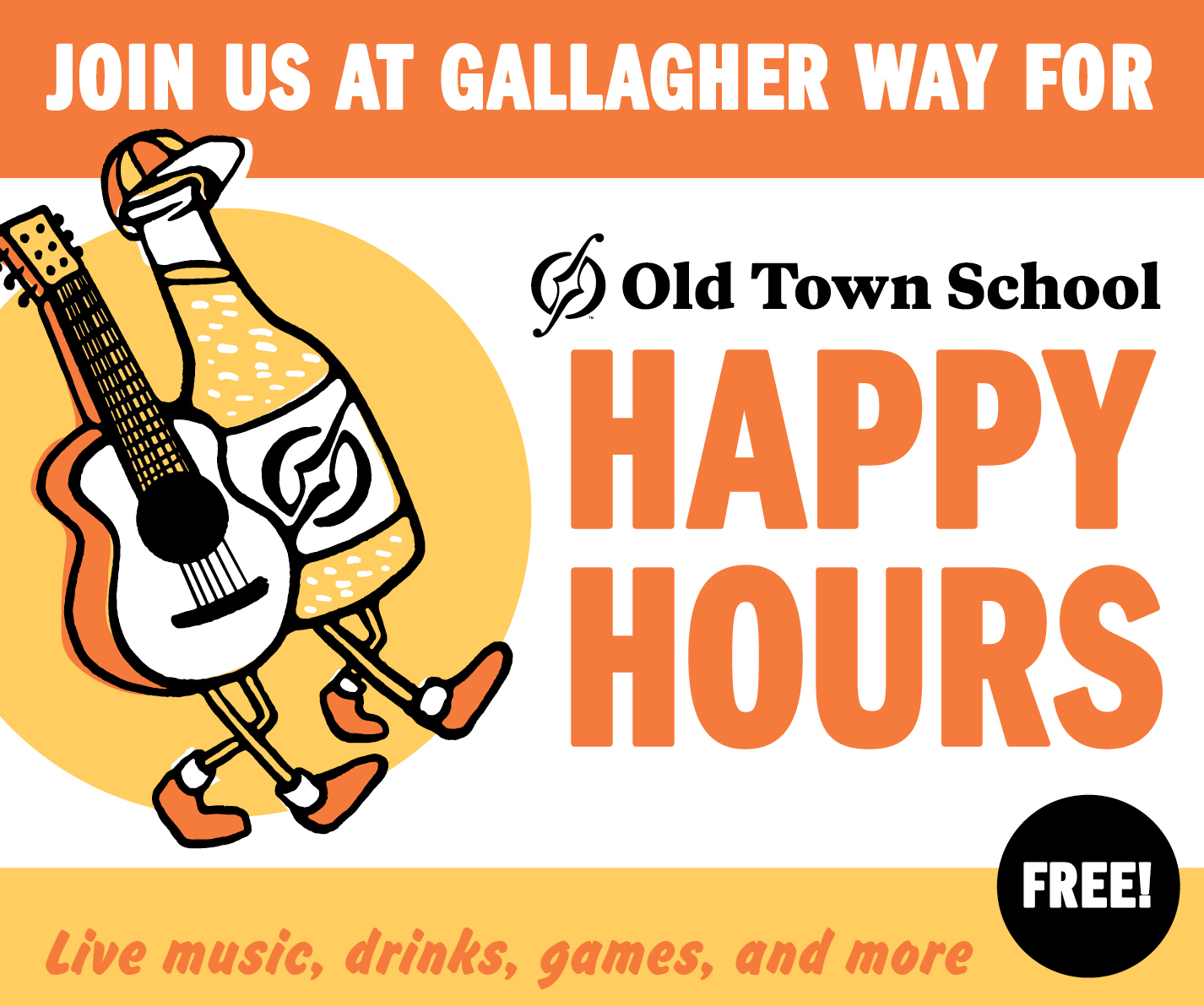 Enjoy free, live music on Tuesday evenings throughout the summer in the green space of Gallagher Way.
Old Town School Happy Hours return this summer to Gallagher Way! Join us for a weekly live music experience sure to end your day on a high note. From the familiar sounds of pop, rock, and folk to unique melodies from around the world, many Happy Hours will also feature free dance lessons or other interactive music experiences. Suitable for all ages, so bring your families and friends!
Also, don't miss Wiggleworms at Gallagher Way on Tuesday mornings!
---
June 20 from 5-7pm
Cepillao
Latin Dance Music - Cepillao is an eight-piece band, known for their unique combination of Venezuelan dance music including Guaco, Salsa, Merengue, Rock and modern Cuban music. Although this group plays a number of familiar songs, it is a little different from most of the groups on the Chicago scene. For one thing, it is electronic. Unlike many of the Chicago keyboard players who take a rather conservative approach to their instruments and stick close to piano or basic organ tone settings, Manasés Rivera takes full advantage of the tools available in his equipment, and the result is that some songs include the kinds of synthesizer effects that you frequently hear from the super-band of Venezuela GUACO and true Cuban bands such as Afro Cuba and Irater but less often from bands based in the US.
July 11 from 5-7pm
Kolaam Dance Company
African Percussion & Dance - From the heart of West Africa comesa dance and music event like no other. It is a community-connecting, live-drumming, call-and-response singing, heart-lifting, beat-making, earth-moving learning experience from the cultural expressions rooted in the music and dance traditions of Senegal. Kolaam Dance is a group of teaching artists led by Senegalese artist Idy Ciss. The group performs workshops and performances in schools, cultural organizations, parks and other venues throughout the Chicago area. The spirit of and traditions of West Africa will come alive at Gallagher Way for this special Happy Hour event.
July 25 from 5-7pm
Bomberxs D'Cora of La Escuelita Bombera De Corazón
Afro Puerto Rican Music & Dance - "Bomberxs D'Cora" of La Escuelita Bombera de Corazón is a collective of Bomba practitioners committed to the preservation of Bomba. Bomba is Puerto Rico's oldest surviving music and dance form established by the island's African descendants. La Escuelita Bombera De Corazón was established by Ivelisse Diaz in 2009.
August 8 from 5-7pm
Violins of Hope
This event is a co-production with Violins of Hope, a concert project that serves to educate and memorialize the lives of prisoners in World War 2 concentration camps. More information about the Violins of Hope organization can be found at https://www.violins-of-hope.com/
August 22 from 5-7pm
Carpacho Y Su Super Combo
Latin Music & Dance - Roberto Carpacho Marin is a Chicago-based musician originally from Medellin, Colombia. Mr. Marin is an expert in tropical rhythms including Latin Jazz, salsa, merengue, cumbia, Bossa Nova and bolero. He found ed his band Carpacho Y Su Super Combo in 1986 with musicians from various Latin American countries in order to create a fusion of different sounds while maintaining authenticity.
September 12 from 5-7pm
Ugochi & African Soul Ensemble with special guest Charmanik
Ugochi Nwaogwugwu is a multidisciplinary creative. She weaves in and out of the roles of professional poet, singer, songwriter, composer, internationally renowned musician, poetry instructor, teaching artist and founder of Spirit Speaks, Inc, seamlessly. Ugochi has executive produced, written and co-arranged three album projects; African Buttafly, A.S.E. and Love Shot. She has created an original Pan-African poetry form called "Ike" paying homage to her Igbo culture of Nigeria, West Africa. Ugochi and her band, African Soul Ensemble (A.S.E.), were named "Best African Entertainer 2022," by the Chicago Music Awards. Ugochi is also a playwright, activist, racial healing practitioner, AACM (Association for the Advancement of Creative Musicians) executive member and a Governor of the Recording Academy/Grammys Chicago Chapter.
September 26 from 5-7pm
La Tosca - Italian Mambo
La Tosca is an orchestral melting pot of Italian, American, French and Polish souls and the songs they are a consequence of a collective memory, combined with individual musical sensitivity and initiatives. They perform a repertoire from the 1850s to the 1950s from Italy mostly, but also French gypsy jazz, Tango, Neapolitan classics.